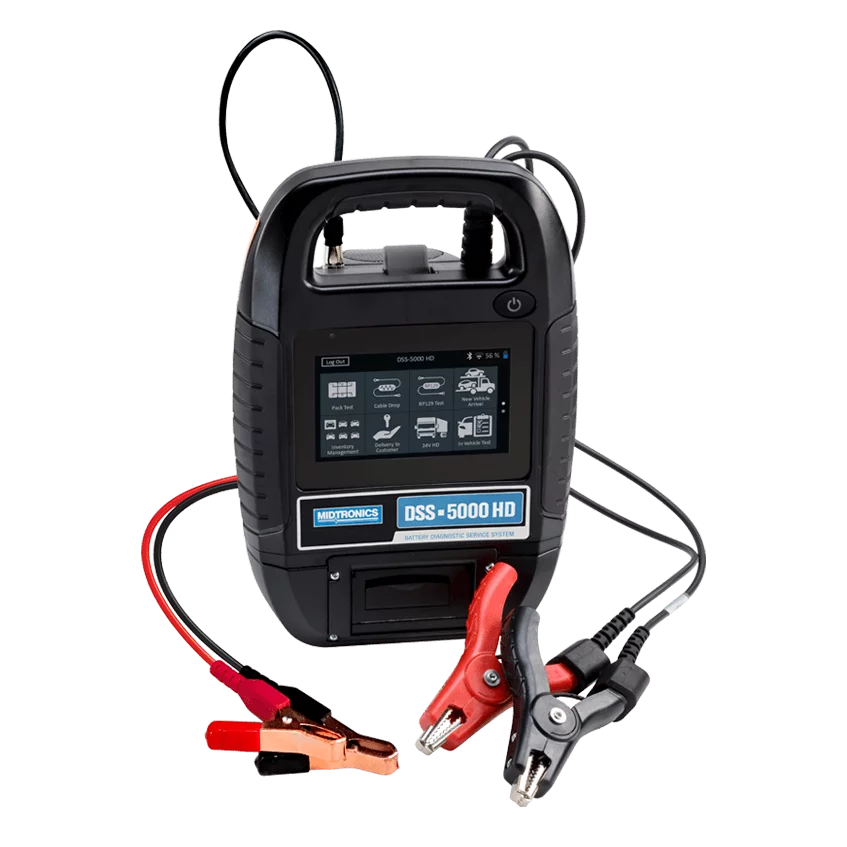 DSS-5000 HD
Heavy-Duty Battery & Electrical System Analyzer
COMING SOON!
DSS-5000 HD Heavy-Duty Battery Diagnostic Service System is designed specifically for heavy-duty commercial truck and fleet applications, addressing both preventative maintenance and battery warranty management.
Preventative maintenance capabilities – cost of road service is so costly in terms of time, towing cost and lost customer confidence
Warranty Management – size and cost of commercial batteries
Promotes quick error-free testing with pre-programmed service apps that include test flows compliant with RP-129A, pack test, and cable drop testing procedures
Reduces technician time and data entry error rates via a built-in camera that scans vehicle VIN and pre-populates accurate OEM specs in the tester
DSS-5000 HD SELECTED FEATURES
Includes multimeter cable
Email or print test results on a networked printer
Supports top, remote and side post testing
3-meter field-replaceable heavy-duty test leads
Three-piece design including a detachable controller with 5-inch full-color touchscreen display, tester pod, and charging dock
VIN capture via integrated camera associates VIN with test records
Battery Management Processes
Midtronics products are designed to meet a variety of battery and electrical system service requirements, but selected features on individual products may make them a better fit for your unique service applications. This product is particularly well-suited for these battery management processes:



Vehicle Arrival Inspection

Conductance Profiling™
Combines our conductance algorithm with new proprietary technology to:
Identify batteries with poor reserve capacity that may start the car, but could fail to support other vehicle accessories
Ensures service readiness for emerging vehicle systems and batteries with new points of battery failure
Analytics and Communication
BMIS integration supports automated over-the-air software updates and analytical reporting

Capture and review battery testing data
Visibility into process compliance
Reporting on self-diagnostics to improve tool uptime
E-mail results via built-in Wi-Fi
APPLICATIONS
Group 31
Commercial 4D / 8D
Automotive
SUPPORTED BATTERY TYPES
12- and 24-volt batteries / battery packs

Flooded Lead-Acid
AGM Spiral & Gel
Enhanced Flooded (EFB)
NorthStar Pure Lead

12- and 24-volt charging systems
BATTERY RATINGS
CCA
CA
JIS
DIN
SAE
IEC
EN
EN2
COMMUNICATION
Wireless Communication
Wi-Fi Communication
POWER REQUIREMENTS
Rechargeable 12V battery (controller)
6 'AA' batteries (tester pod)
Standard DSS-5000 HD models will be introduced soon — check back here for more information regarding availability.
Currently, Midtronics works closely with individual customers to develop custom DSS-5000 HD solutions. Contact your Midtronics account manager for information about custom solutions.
A033
Lead Stud Adapter Set (4)
A401
Replacement Paper Rolls – 10 Pack
A422
DSS-5000 HD Wall Charger
A423
Printer Module
A657
Amp Clamp for DSS-5000 HD
A658
Cable, USB to Micro, 3-Ft
CVG-2BT
CVG-2, Bluetooth
DSS-5003
Charging/Storage Dock